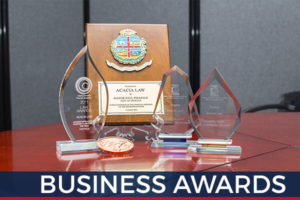 Acacia Law is proud to be declared a finalist in the local business awards (for businesses operating in Ipswich for less than two years). Although Acacia Law, Ipswich's only patent attorney firm, has been around for over a decade, it is has recently moved to Ipswich.
"The accolade acknowledges Acacia Law's contribution to helping Ipswich businesses protect their intellectual property law," says Acacia Law Partner, Cathryn Warburton.
"Often the main value of a business is in the intellectual property of the business. Failure to secure proper protections can leave businesses vulnerable to having their intellectual property claimed by others, without much right to do anything about it."
At Acacia Law, we focus on building our clients' businesses!
Acacia Law Receives Award As Finalist Trophy
In The 2014 Ipswich Business Awards
Media Release, 17 October 2014
Acacia Law's Other Business Awards
"Sustainable business of the Year" – Porirua business Excellence awards, November 2010
"Best Professional Services Firm" – Porirua Business Excellence Awards (Runner Up), November 2010
"Most Dynamic IP Firm of the Year – Australia and New Zealand" – Corporate International Global Award – October 2010
"Best IP advisory Firm of the year – New Zealand" – Corporate International Global Award – May 2010
"Wellington Gold Business Awards" – May 2010 (Runner Up)
"Sustainable Business of the Year" – Porirua Business Excellence Awards, November 2009